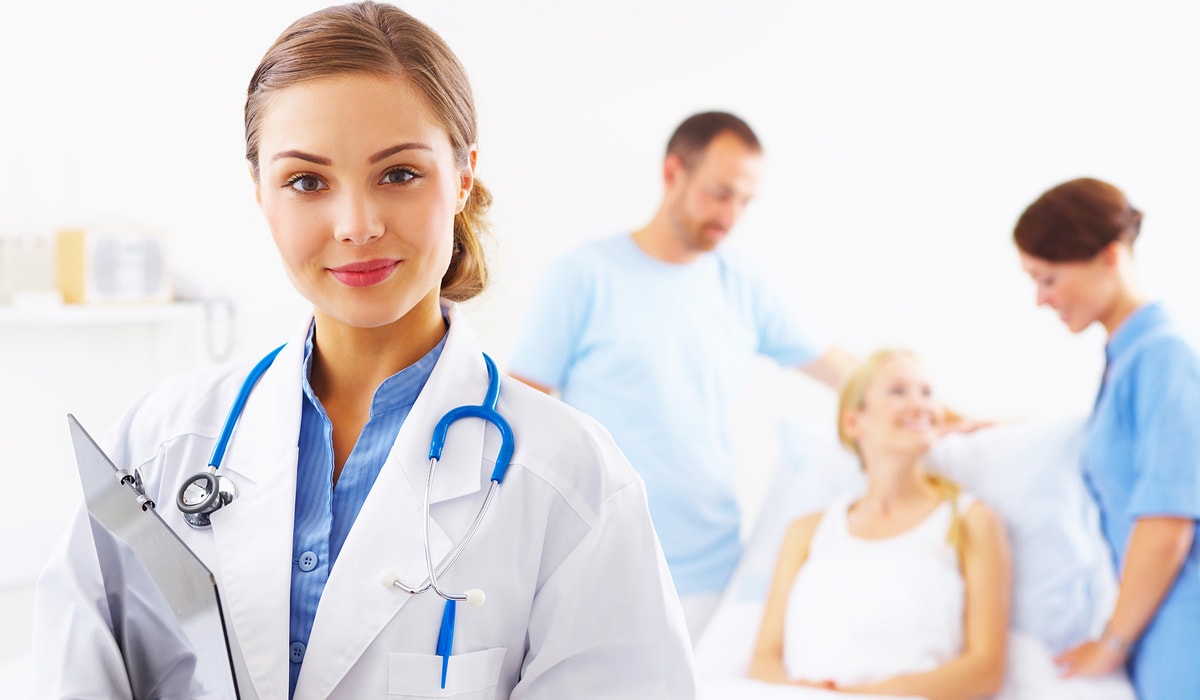 About 110,000 jobs in adult care in England are left vacant, a rise of 22,000 in a year, according to workforce data.
Training charity Skills for Care said the vacancy rate had risen from an estimated 6.6% in 2017 to 8% in 2018.
It said employers found it a "challenge" to get people with the "right values" for care work.
The Department of Health and Social Care said it is going to run a recruitment campaign.
The statistics also show 31% of carers left or changed jobs in 2017-18.
The average pay for council care employees was £9.80 an hour, while the average pay per hour in the private sector was £8.12.
Skills for Care chief executive Sharon Allen said: "Employers often tell us their biggest issue is finding people with the right values to work in adult social care and this report shows the scale of that challenge."
Amy Esgate, lead practitioner at the Cambridge Housing Society (CHS), told BBC Inside Out East that she had trouble recruiting adult care workers.
"Supermarket work is so well paid for the amount of responsibility. The reality is that care is such a high responsibility [job] and although CHS really looks after staff, care in general is not a high paid area," she said.
Supermarket Aldi pays staff £8.85 an hour, while rival Lidl increased basic pay to £8.75 in March. Morrisons, Asda and Marks and Spencer also all pay £8.50 or more per hour.
Care worker Jenny Balde, 32, who works at Chiswick House in Norwich, said the job was not one done for the money.
'Rewarding career'
She said: "It is not for everyone because some people work for the money and some people don't.
"To be a carer you have to love what you are doing. The money is not why you do it because you do more than you are paid for. But I love the job and am passionate about helping people."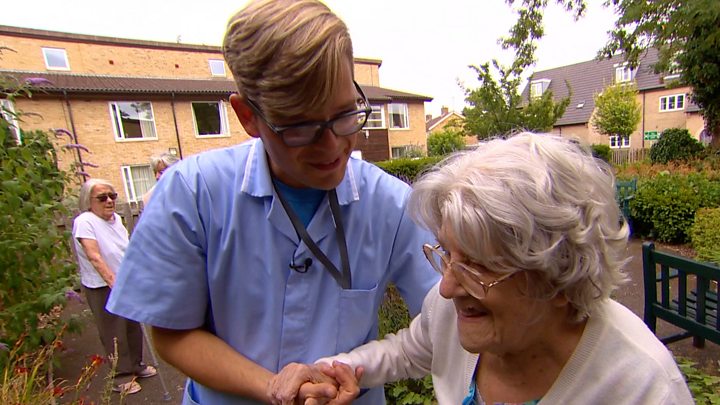 A Department of Health and Social Care spokeswoman said: "We want to promote adult social care as a rewarding career of choice and attract and retain staff to the profession
"We are working to ensure the system is able to meet the demands of our growing ageing population and will soon launch a recruitment campaign to further raise the profile of the sector."
The vacancy rate varies across England.
More than one in every 10 jobs in social care is believed to be vacant in 35 out of 152 local authority areas.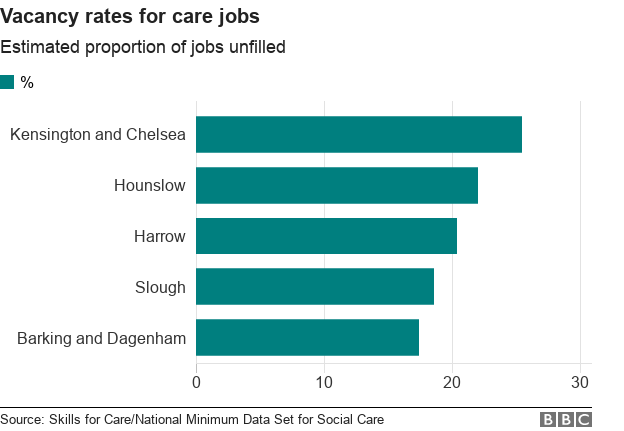 The vast majority of jobs are in the independent sector.
The figures were compiled based on the number of vacancies in the private sector at the end of March and as of September 2017 for local authorities.
In Kensington and Chelsea there were an estimated 1,100 vacancies, compared with 175 last year. This is about one in every four posts.
Slough had the highest vacancy rate outside London, with 18.6%, the Skills for Care data suggested.
The government will launch an adult social care recruitment campaign in autumn 2018, which aims to promote the industry and careers.
It also held a consultation on the sector's workforce in partnership with Skills for Care, the results of which will help inform a green paper setting out proposals on adult social care this autumn.
By Jo Taylor and Nic RigbyBBC News, East